This is not a Kowangan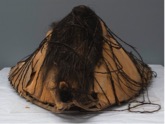 Rosie Cook was eagerly anticipating the start of the final year practical subject, "Conservation Assessment and Treatment II", where students are assigned objects or artworks to put their conservation techniques and knowledge into practice. Keen to put apply all the skills she'd learned in Treatment I, Rosie was dismayed when the Tyvek cover on her mystery object was pulled back to reveal "a huge pile of dusty leaves, wicker-work, and what appeared to be the hair from that scary little girl in The Ring". The label informed her the object was a Kowangan, but what exactly was that and how did one treat it?
Launch the pdf to find out!