Alexander Ewart Copland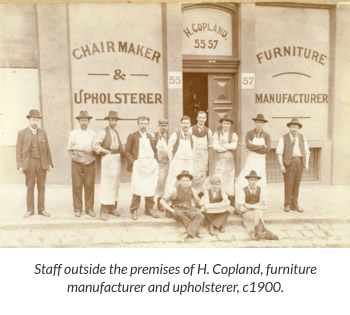 Born in Melbourne and educated at Caulfield Grammar School, Alex grew up in an environment that surely contributed to his life-long passion for magnificent homes and their contents.
The Copland family had an established furniture manufacturing and upholstering firm in LaTrobe Street, and Alex's father was also a highly successful property investor, buying and selling hotels through his business Acland Investments. Amongst the family's property portfolio was Eastbourne House in East Melbourne. It was in the stables of this property that George and Mirka Mora established Melbourne's eponymous Balzac Restaurant; one of the city's first restaurants with a 10pm liquor licence.
Alex enlisted in the RAAF in 1942 and was posted to Kingaroy, Queensland. Until his discharge at the end of 1945, Gunner Copland's main duties focussed on driving and maintaining a variety of military vehicles.
Dalmah, Alex's Toorak mansion, was acquired in the 1960s. By this time, Alex was an established man about town, the owner of expensive sports cars and an international traveller. Dalmah was a brilliant backdrop to this lifestyle and the scene of many parties (attended by the cream of Melbourne society) as well as film and advertising shoots. Throughout his life, Alex was an avid collector with a particular fondness for clocks, cars, furniture and curiosities. At various times his car collection included a Ford GT40, a Lancia Aurelia, an Isotta Fraschini and an Aston Martin DB4 GT Zagato.
Alex loved great houses and their contents and he romanced the idea that he could turn his own mansion into a house museum that people could visit and enjoy. For many years, Alex was a vocal board member of The National Trust (Victoria). So great was his passion for conserving historic architecture that it became a personal mission. If Alex couldn't save an entire building he would at least try to rescue important architectural features – stairs, doors etc – from the wrecker's ball.
He often travelled to England to study and in 1975 was one of the first Australians to be accepted into the Attingham Summer School. Since then, many eminent Australian curators, architects and museum directors have attended programmes run by The Attingham Trust.
In his later years, Alex turned his back on society and became increasingly concerned about the environment. He gave up driving, declaring that cars polluted the atmosphere, and became such a keen recycler that he collected junk mail from not only his own letterbox but from others as well. Embracing public transport, Alex was a popular figure in Toorak Village and in his favourite city bookshop. At the time of his death Alex was still actively involved in running his property, Toad Hall, a backpacker hostel in Elizabeth Street.
Alex was an only child and at the end of his life he was only close to one or two relatives. Although a lack of funds meant that his thoughts of a house museum could not be realised, through his passion and extraordinary legacy it has been possible to establish the Copland Foundation.