'Lampy' the First Garden Gnome!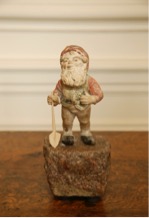 'Lampy' the First Garden Gnome!
I was fortunate to attend this year's Attingham Summer School for the Study of Historic Houses and their collections thanks to the generous Alex Copland Scholarship. The summer school provides a wonderful opportunity to explore 25 country houses, their gardens and collections. It provides a framework and context that allows one to consider the history and the society in which these houses and artefacts were commissioned, coveted and collected.
While many of the objects we saw were things of great beauty and monetary value - others were more quirky and personal. All of them reflect the personality of their owners. One object that caught my imagination was Lampy, the original garden gnome who inhabits Lamport Hall, a beautiful country house in Northampton. This was the home of the Isham family from 1560 until 1976, when it was gifted to the public under the management of a private Trust.
The history of the ubiquitous garden gnome begins when in 1847 the eccentric owner, Sir Charles Isham, began work on a rockery in his garden. The Lamport rockery was one of the first in England. After a holiday to southern Germany, where he saw small china figures being taken down the mines as good luck talismans, Sir Charles brought home a selection of these charming figures to enliven his garden.
They were not just attractive ornaments. Apparently he genuinely believed in fairies and gnomes and was convinced they came alive at night, working away in the caves of the rockery. He built bridges and waterfalls for them. He even wrote a book, Notes on Gnomes, in which he detailed reported sightings of gnomes by others. He was not alone in this belief: fairies and gnomes were a manifestation of the nineteenth century Romantic Movement. Many people, including the painter Richard Dadd and the writer Arthur Conan Doyle (of Sherlock Holmes fame), were fellow believers. This is one reason the Lamport rockery and its gnomes attracted widespread attention. In the 1870s thousands of people visited the gardens and the national press picked up on the story of the Garden Gnome - love them or loath them, the gnome was here to stay.
When Sir Charles died in 1903, his two daughters had the gnomes removed. Legend says they shot the gnomes themselves with air rifles - but that may be just a good story.
Only one appears to have survived, by falling into a crevice and laying hidden for many years. Sir Gyles Isham rediscovered it in the late 1940s. This gallant survivor is now affectionately known as Lampy and has since travelled the world - including a visit to New Zealand - appeared at the Chelsea Garden show and has become recognised as a British national treasure!
For more information visit: http://lamporthall.co.uk/the-hall/
Image courtesy of Lamport Hall Trust.